WHY WORK WITH US?
WE RETURN YOUR CALLS
WE LOVE WHAT WE DO
WE TREAT YOU WITH RESPECT
WE RETURN YOUR CALLS
You deserve the chance to be heard. Our attorney abides by his commitment to being responsive and accessible to his clients.
WE LOVE WHAT WE DO
Passion is the guiding force behind every aspect of our practice. Our dedication to our clients' futures allows us to best serve them.
WE TREAT YOU WITH RESPECT
No matter what brings you into our office, you can feel confident knowing our team will represent you and your case with dignity.
BANKRUPTCY & SOCIAL SECURITY DISABILITY ATTORNEY IN GREENVILLE, NORTH CAROLINA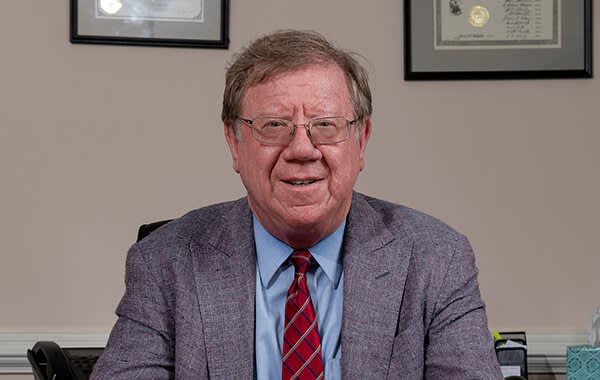 RICHARD L. CANNON III
---
ATTORNEY AT LAW
---
As a child, multiple family members encouraged Rick Cannon toward a career as an attorney. He took their advice to heart and went on to earn his J.D. from the Campbell University School of Law in 1983. Since then, Attorney Cannon has dedicated his practice to representing clients facing a variety of legal issues in Greenville and throughout eastern North Carolina
THE HONEST ADVICE YOU DESERVE
WE WON'T SUGARCOAT YOUR SITUATION; WE'LL DELIVER THE TRUTH.
With us, you'll always know where your case stands.
At Cannon Law Offices, PLLC, we're all about integrity. We'll tell you what you need to hear and be upfront with you through every step of the process. During an issue of bankruptcy or Social Security Disability, you don't need all the bells and whistles; you need answers.
I highly recommend Mr. Cannon for your legal needs.
I hired Mr. Cannon to handle a personal matter and he did a phenomenal job. He is very kind and understanding. He took the time to explain my options and how best to proceed. I highly recommend Mr. Cannon for your legal needs.
Worked Tirelessly to Assist Us
Mr. Cannon and his team have worked tirelessly to assist us in our Chapter 13 over these past three years!! We appreciate all the advice, phone calls and support through this process to realign our financial situation. Thank you Team Cannon!!
Wonderful Practice!
Wonderful practice! So grateful for the knowledge & guidance of Mr. Cannon through a process that's so overwhelming & foreign to me!
DON'T SPEND ANOTHER MINUTE WORRYING ABOUT YOUR CASE
LET US HELP YOU NAVIGATE BANKRUPTCY, SEEK SOCIAL SECURITY DISABILITY BENEFITS, OVERCOME A PERSONAL INJURY, FIGHT BACK AGAINST A DUI CHARGE, AND MORE.
Life is often unpredictable. When a sudden change in plans is threatening your future, you deserve confident and compassionate advice from a team of skilled legal professionals. Let our attorney shoulder your burden at Cannon Law Offices, PLLC. No matter what issue brings you through our doors, we are prepared to listen to your story, outline your options, and guide you forward. Reach out to us in Greenville, North Carolina, today.
---
We'll take a collaborative approach to your case because we understand the impact its outcome may have on your life. Start off by telling us the entirety of your situation; we need the truth in order to best serve you. Then, we can work together on a strategy centered around your desired outcome.
When you need to file for bankruptcy or apply for Social Security Disability benefits, our team will be here. We are guided every day by our desire to help others through some of life's most difficult moments. From our office in Greenville, we proudly represent clients throughout eastern North Carolina. Contact us today if you need legal counsel in Greenville or the surrounding areas. We will set you up with a free consultation with our attorney.